Welcome back to our third and final installment of Radiant Homes' Quarantine Design Tips with David Reid, President of Radiant Homes and Brandi Youngmark of Brandi Youngmark Interior Design!
We're passionate about distinguished design AND functionality so we've been busy helping with everything from picking out paint colors to assisting with bar design! Today, we're sharing an exciting project. This is one that we feel a lot of homes are looking for advice on so we wanted to share this with you all.
Brady has a smaller bathroom that he wanted to update to help it seem a little bigger.  And as it goes with all home improvement projects, what he thought would take a few days actually ended up taking a few weeks. In the end, it was all worth it! Check out his before and after transformation below!
Brady's Question:
I've got a bathroom that's 60″ x 80″ that hasn't been updated in a while, and I'm looking at updating it a bit this spring. What I'm thinking is new floors (maybe tile if I can figure out how to install that), new vanity with medicine cabinet, cabinet above toilet (grey in color), and new paint (thinking like a Dutch Boy Wrenched Grey (#435-2DB) as the main color and Dutch Boy Cooled Lavender (#244-2DB) for the accent probably on the wall behind the vanity).  What are your thoughts?!
Brady's 'Before' Photos:
Brandi Said:
An update is just what you need and would really freshen up the space!
Since the room isn't very large, I would paint all walls one color with the Wrenched Gray. Choose a contrasting pop of color for the vanity and the cabinet over the toilet.
Accent with a fun geometric floor! If you are unsure about installing ceramic tile, there are other options available with easier installation such as luxury vinyl tile by Mannington. Keep the countertop and sink light; I would recommend a quartz with grey veining.
David Said:
I'm with Brandi on the paint; keep it simple in this space. 
I would consider sourcing a new vanity with an under-mount sink rather than the pedestal sink.  This would allow for a taller vanity…more storage space!  I would find a cabinet over the toilet that compliments a medicine cabinet over the vanity, and put these two on the same wall.  This would consolidate wall mounted items to a single wall, again helping to simplify and "clean up" the space.  See images below for reference. 
Go for a simple and more contemporary vanity light.  LVT (luxury vinyl tile) flooring is definitely a great option!  Tons of design options, easy install.  If you want to try your hand at some craftsmanship, consider adding a wainscoting or shiplap wall detail to a wall…or all three!  This could be an easy way to achieve either a more country chic or beach vibe if you're into that. 
Of course, you could always tile the shower walls to make a big impact!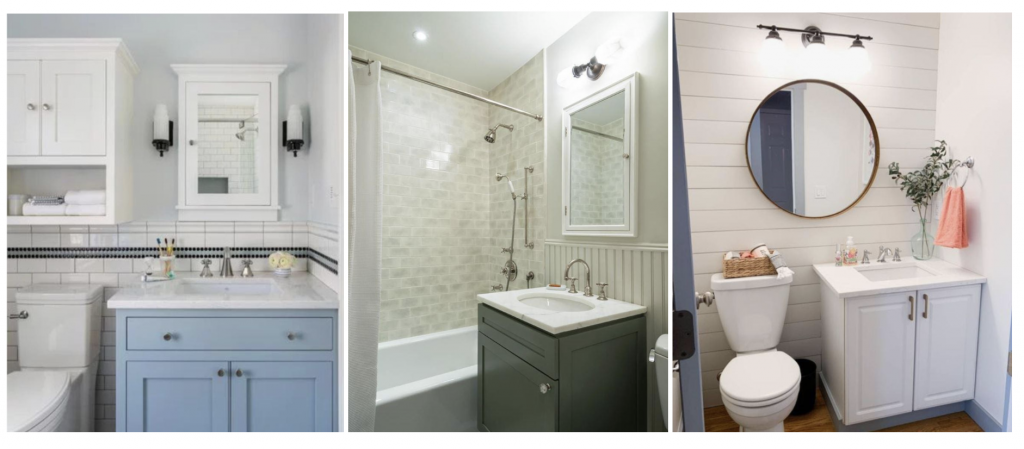 Alright, this is all great advice and these pictures are beautiful, but what does the finished product look like?!
So many updates to look for! Cabinets are all on the same wall, wainscoting, a new modern light fixture, new paint, new trim, new flooring and new shower insert. 
Brady's 'After' Photos: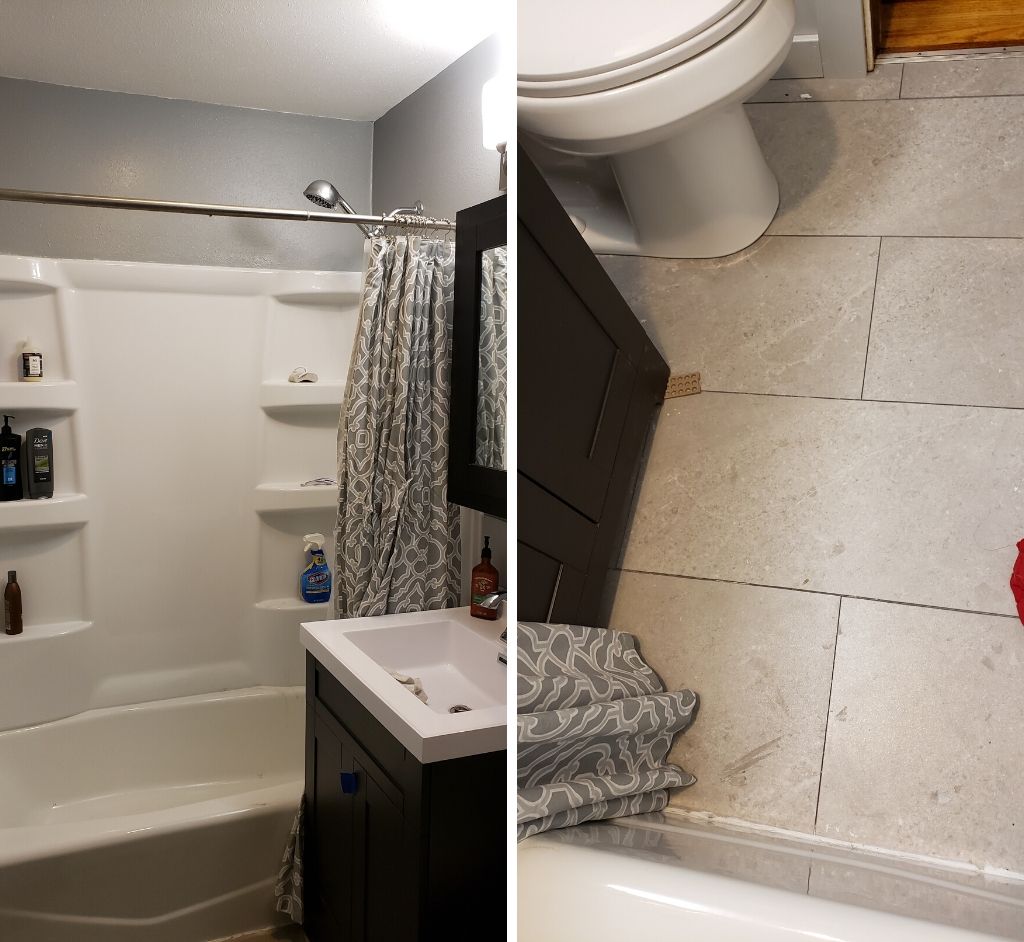 What a difference a few simple (not necessarily quick) changes can make! Brady, thank you so much for reaching out and letting us assist you with your bathroom remodel! We hope you have a cleaner, more useable space that is now perfectly designed for the life you've built!
About our contributors: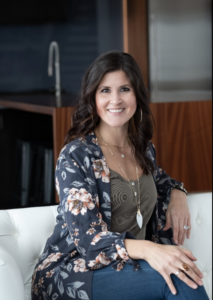 Brandi Youngmark has an extensive background in residential design and planning. Her goal for each project is to be a guide and a resource for her clients through each phase of the construction process. Even before the first sketch is drawn, she works alongside the build team and client to establish a clear vision for the project.
Throughout construction, she guides the client through interior design, finish selections, and construction details, ensuring the design intent and vision have been captured. Brandi currently live in Fargo with her husband Justin and their 3 children, Maya, Corban and Carson.
She loves Minnesota summers, wake surfing and yoga!
David Reid is the President of Radiant Homes. He believes in working tirelessly to ensure that you see your home lift off the paper and become a home designed specifically for the life you are building. He also wants it to be a gratifying and enjoyable experience.
"When we hand over the keys, you will have a Radiant home or lake retreat that is unique to you and your family, and built within your budget."
Each project is a piece of art and David wants it to be the homeowner's masterpiece.