Whether we want to admit it or not, the holidays are coming. Just next month it will be Thanksgiving and at the time of this writing, Christmas is just 12 Saturdays away! 
We can build so many great memories around our table feeding our families, playing cards and laughing until we cry with friends we haven't seen in ages. They also tend to highlight the pieces of our homes that just don't fit the life we've built. The table space isn't big enough for the growing family. There's not a good buffet area. There isn't a place for the "men" to go after dinner and watch their football games. (Remember sports!?) 
You might already have a list of items that you KNOW you want in your next home. If you don't, let these homes inspire you! Imagine what your next holiday (post-COVID) or lake season might look like in a home like this. A dream home perfectly designed for the life YOU have built.
Reclaimed Coastal
Our reclaimed coastal was built to entertain. It's very evident in the design of the home that this was important to the home owners. (That's the nice thing about working with a custom home builder, we can build a home that visibly reflects what's important to you!) This Lake Melissa home features three different seating areas in the kitchen and dining areas. 
A beautiful ten foot kitchen island featuring white quartz countertops on strong columns has seating for 6. Perfect for casual lunches or appetizers.  The dining room houses a 10 foot reclaimed wood table with 8 striking white maple chairs. It's just begging for a holiday tablescape! And just next to that is a sophisticated wet bar area with 4 deep leather barstools. Guests can sit and enjoy a glass of wine before dinner.
 Each area is designed to exist on its own. Each has its own unique color pallet and textures but also plays a role in the larger theme of the home. 
Directly off the kitchen is a living area with a warm and inviting, yet commanding fireplace, perfect for fall nights and family storytelling. Plush furniture and expansive natural light make the room feel warm and inviting. The fireplace provides actual warmth and a focal point and gathering area. The mantle is the perfect accessory and would house a few Christmas stockings quite nicely. 
Off the kitchen on the other side of the home is a three season room. This one with furniture designed to wick the water dripping from wet swimsuits and a fireplace to warm the area on cool summer nights. 
This room features a custom 5 panel sliding glass door to keep the kids contained on a rainy day. Or to enjoy the silence and serenity of a crystal clear lake on a bright, summer morning. 
Prairie Natatorium 
The Prairie Natatorium was built for a client who loved to have fun and knew exactly how to do it.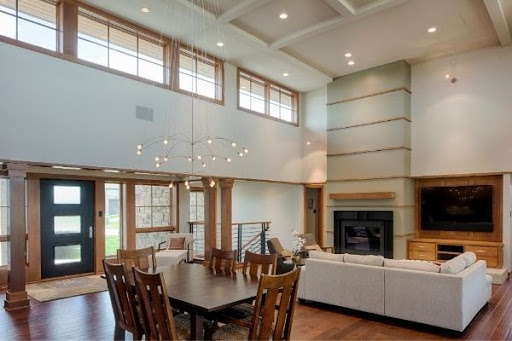 Upon entering the home the height of the ceiling affords more space for people. The open concept floor plan allows for multiple traffic patterns for bustling entertaining. The casual seating area and feature of the flat screen TV invite guests to make themselves comfortable.
If the party divides people can see themselves to the basement where they'll find an entertainment haven. A pool table and wet bar are the perfect complement to theatre style seats, perfect for Monday Night's game or the latest Marvel movie. 
The home boasts 5 bedrooms and 4 bathrooms, so it's perfect for overnight guests. The next morning, a cool dip in the full-size, in-gound pool is the perfect way to wake up before heading back to a busy week ahead. But just in case it's vacation, hop in the hot tub and don't miss any action while you're there. 
Courtyard Manor
One of our favorite homes from an entertaining perspective is our Courtyard Manor.
It was elegantly designed to awe and inspire everyone that enters it. Let's start with the kitchen, the heart of the home.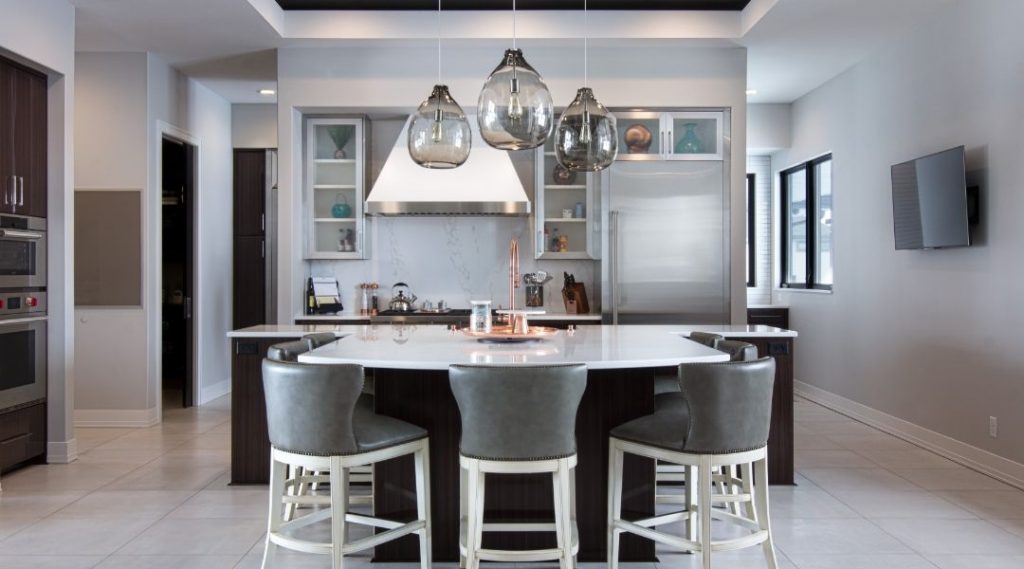 The kitchen features an incredible custom island in a horseshoe shape to maximize entertaining and functionality. There's room for 7 to sit at the rounded end of the island. Anyone can use the other end, featuring a bold, custom, copper faucet, to finish up preparing the meal or clean up afterward. The clear cabinets on either side of the range give a new feel to a custom shaker-style kitchen cabinet. 
Directly behind the island seating is a more formal dining room table with room for 8 more. With a set up like this you never have to worry about having enough room if someone brings an unexpected guest. 
The dining area transitions seamlessly (literally) into the living area where elegance and comfort are balanced perfectly. Sophisticated shelving gives the room elegance while the tradition of a fireplace gives the room warmth and comfort.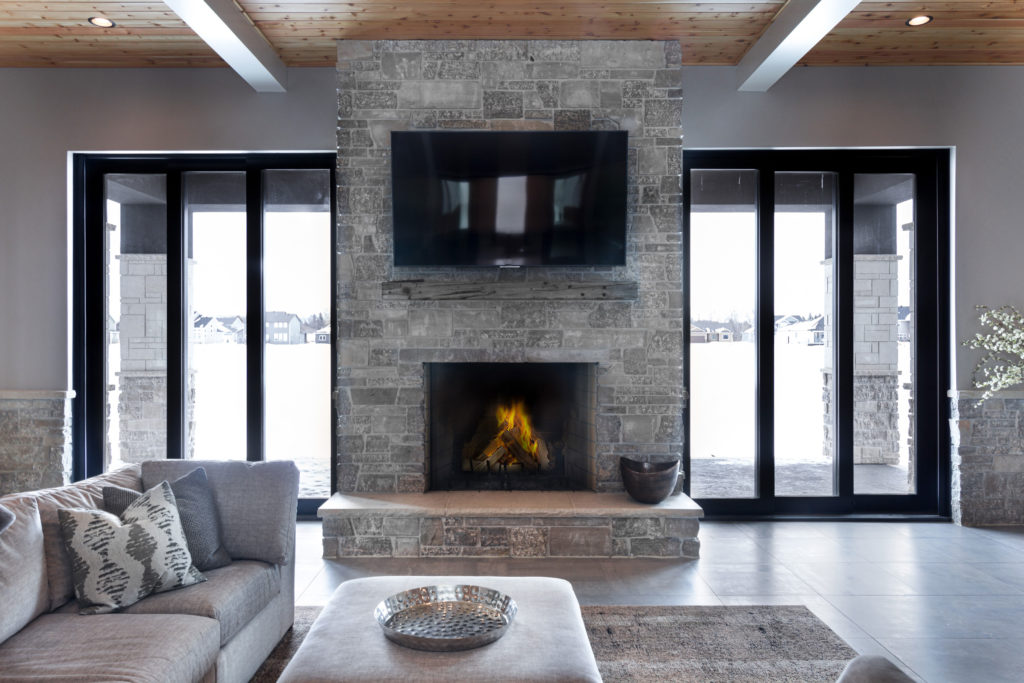 Again, off the opposite side of the dining room lives a three season room or more casual living area. A large, stone column fireplace is flanked by 3 panel doors that exit onto a concrete patio perfect for summer entertaining.
The top of the tower staircase houses the home's most remarkable feature. A simply stunning grand piano. Perfectly placed at the top of the stairs so that when played, the music can be heard throughout the home. 
…
What a trip! We have loved day-dreaming about entertaining with you all. We hope you were inspired. You can save any of these images to your Pinterest board, just hover over the image and click save. 
There is always more inspiration on Instagram and Facebook. Thanks for being here and as always, if you have questions on how to incorporate elements like this into your home by a custom build or remodel, please reach out to us at info@radiantcreativehomes.com.