Our 2019 parade home was something spectacular. A scroll stopping contemporary black and cedar exterior paired with mid-century modern interior elements left parade participants feeling like they had been witness to something extraordinary. And they had. 
The Client
Radiant Homes didn't have a client for this build. This home was built to be featured as a model home on the 2019 Parade of Homes Tour.  We kept an ideal client in mind. Someone who appreciated unique, contemporary design but also the cool, classic mid-century modern style. 
The Team
Radiant Homes teamed up with Scott Meland of Meland Architecture to draw up this beauty. 
We also knew we wanted to work with our go-to interior designer Brandi Youngmark of Brandi Youngmark Interior Design to bring our "contemporary meets mid-century modern" model home to life. 
Take a Tour
The Exterior 
The Blackwood is aptly named, for although it appears blue-ish in the photo, the all-black steel siding is paired with cedar wood accents. A large, central stone column near the custom 8 foot glass door creates an intriguing yet inviting entrance. 
In true Radiant fashion, we went against the "norm" and placed the 12 inch steel siding panels vertically in a reverse board and batten design with a 1 inch reveal. 
Let's take a look inside this custom home. 
The Interior 
Living Room
The living room features a limestone fireplace surround on a nautical inspired accent wall. The color is Anchors Aweigh by Sherwin Williams. Brandi's vision for the home's interior accelerated our willingness to push the envelope, and we incorporated contemporary details like white drywall jambs with black window sills. The room was styled by Maria Bosak and Sara Schultz of Eco Chic Home in Fargo, ND.
Kitchen
In the kitchen, you can definitely feel the mid-century modern influence, but it has a lot of geometric elements that added contemporary flair. It feels cozy and not overdone.
Radiant is committed to distinguished design and exceptional functionality. In this kitchen, we got to work on both. The area was very open; so we maximized storage where we could. The ten-foot island has white painted slab door cabinets from Braaten Cabinets with a sleek white quartz countertop.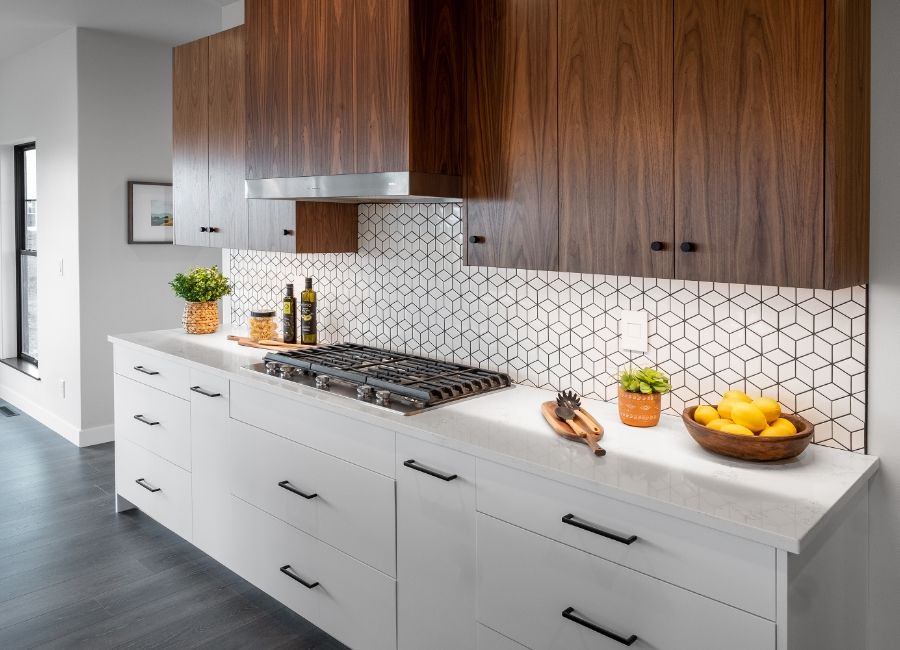 In addition to the white cabinets, the team made sure to stay away from fads like shiplap and chose edgier white stainless steel appliances. To contrast the "all white everything", the team added stained walnut upper cabinets and matte black finishings.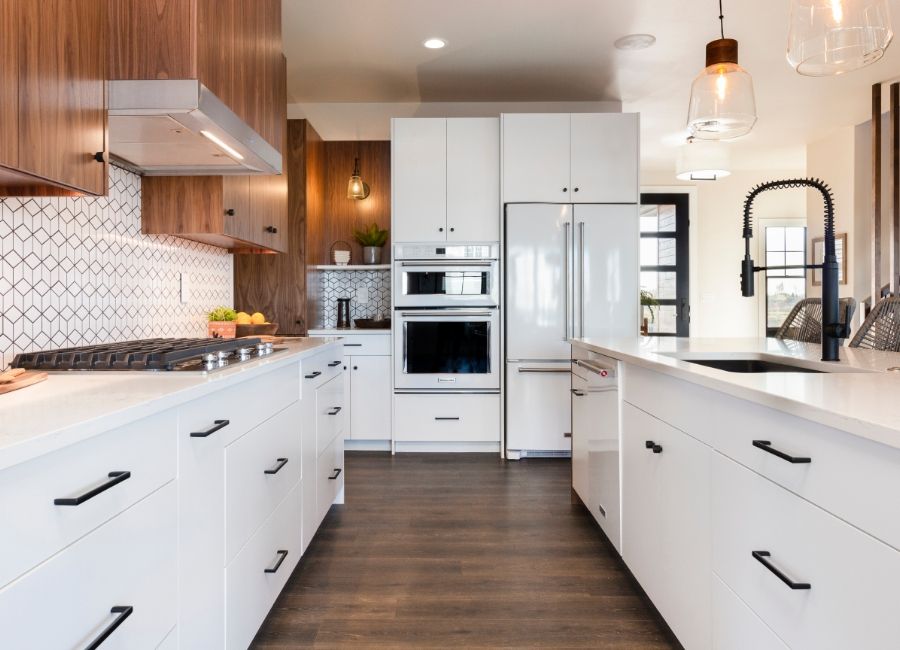 Master Bedroom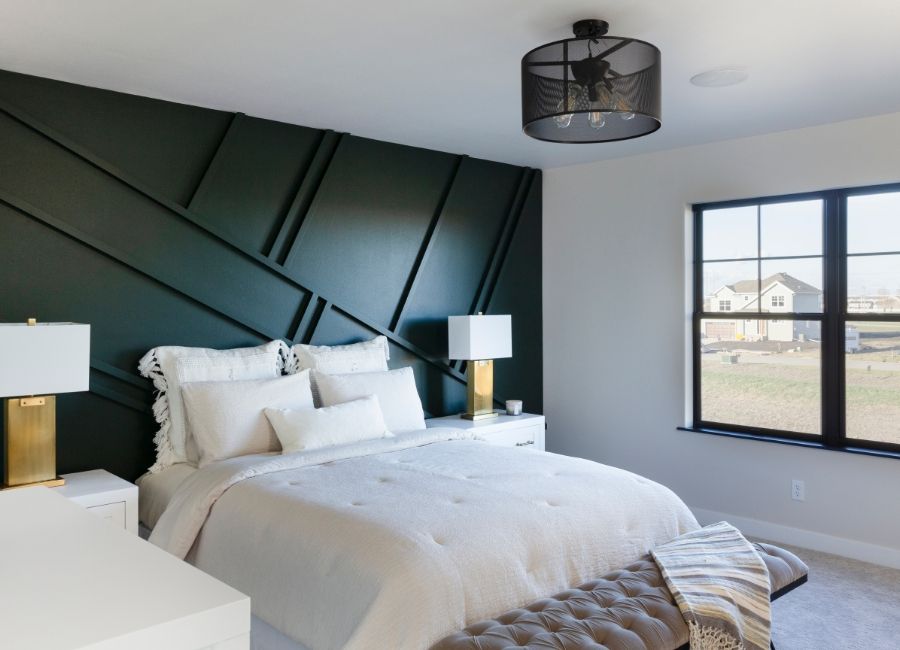 To stay with the geometric style used in the kitchen, the team added a geometric accent wall in the master bedroom in the rich shade of Jasper Green by Serhwin Williams. The gold lamps pop against the deep color of the wall and the added lines draw you into the space even more. 
Master Bath 
The Master bath is an incredibly spacious area that features a double vanity with walnut cabinets and classy black hardware, as well as a custom shower with tile to the ceiling (a staple in our homes). There is a soaking tub below a large window that filters natural light into this incredible space. 
That's our tour! Thanks for being with us. To see the original feature in Midwest Nest, check it out here! If you're interested in a home like this make sure you contact us so we can get to work making your dream home a reality.
About our Contributor: 
David Reid is the President of Radiant Homes. He believes in working tirelessly to ensure that you see your home lift off the paper and become a home designed specifically for the life you are building. He also wants it to be a gratifying and enjoyable experience.
"When we hand over the keys, you will have a Radiant home or lake retreat that is unique to you and your family, and built within your budget."
Each project is a piece of art and David wants it to be the homeowner's masterpiece.