Welcome back to Radiant Homes' Quarantine Design Tips with David Reid, President of Radiant Homes and Brandi Youngmark of Brandi Youngmark Interior Design!
We've been busy helping people with their DIY projects during their time at home.  We're passionate about distinguished design AND functionality so we have been helping with everything from picking out paint colors to assisting with bar design!
We asked some of our participants to send us their "after" photos once they were done with their project.  Everyone loves a good transformation so we're sharing those before and after photos, as well as the project details, here!
Sheri's Question:
I am excited to see what you think about our new bar area. It has been a workout area; so we are excited to get started.  I normally like grays and whites like the photos of our upstairs (attached). The downstairs is tan with white trim.  We are creating a 2 level bar for about 3 people to fit at. Since there are dark floors that limits the light woods and gray woods I normally would choose. We would love ideas on countertop color, bar color (thought of navy or paint it white or other coverings) and also wall coverings for the 3 walls so it looks like its own space but still blends. We were thinking some kind of brick but expensive to do all walls…we have seen ideas of white washing brick panels but do not want it to look fake. Other ideas for the walls would be awesome. I wanted to do hang down star lighting but the ceiling is too low so a cool light idea would be great as well. Thanks!
Sheri's before pictures: 
Brandi said:
This looks like the perfect area for entertaining, and you have so many options for the overall design! So have fun with it!
I recommend doing the cabinets in Sherwin Williams "Naval".  Add some floating wood shelves on the back wall of the bar.  For the peninsula, I would consider a wood top on the raised portion that would coordinate with the wood flooring. For the lower level countertops on the peninsula, I would suggest Vicostone Mysterio, as it has brown and grey layers of veining.
The back wall is the focal point; so I would invest in the whitewash brick as you mentioned, or else a white subway tile.  Since the adjacent walls extend from the bar out into other rooms, I would leave them painted just as they are.
David Said: 
I love that navy color.  I'll chime in with regards to the back wall. 
You can use a thin brick veneer (rather than full dimensional brick) that installs much like tile, although this price point will still likely be more than a simple white subway tile.  Visit Hebron Brick for options. 
Otherwise, you could consider a whitewashed wood paneling, which would still add some great contrast to the navy cabinets and will allow for much easier installation!  I have attached a picture of a bathroom in a new home we built where we utilized this treatment.  Check out local vendors Grain Designs or Dakota Timber for help with sourcing this material!  You can also ask them about shelving options, and they have kits available to help with floating shelf installation. 
I like the idea of doing a square paneling detail on the back side of the peninsula (over your plywood), and paint it the same navy color.  Lastly, visit Kathy at Valley Lights for some lighting ideas above the bar!
Great advice…but let's see what the final results look like!
It looks incredible and we hope it will bring your family joy and togetherness! We're so happy we could assist you in designing a piece of your home that is both beautiful and functional and that fits the life you've built. Enjoy your new bar Sheri and congratulations on a job well done!
About our contributors: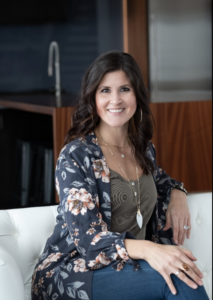 Brandi Youngmark has an extensive background in residential design and planning. Her goal for each project is to be a guide and a resource for her clients through each phase of the construction process. Even before the first sketch is drawn, she works alongside the build team and client to establish a clear vision for the project.
Throughout construction, she guides the client through interior design, finish selections, and construction details, ensuring the design intent and vision have been captured. Brandi currently live in Fargo with her husband Justin and their 3 children, Maya, Corban and Carson.
She loves Minnesota summers, wake surfing and yoga!
David Reid is the President of Radiant Homes. He believes in working tirelessly to ensure that you see your home lift off the paper and become a home designed specifically for the life you are building. He also wants it to be a gratifying and enjoyable experience.
"When we hand over the keys, you will have a Radiant home or lake retreat that is unique to you and your family, and built within your budget."
Each project is a piece of art and David wants it to be the homeowner's masterpiece.