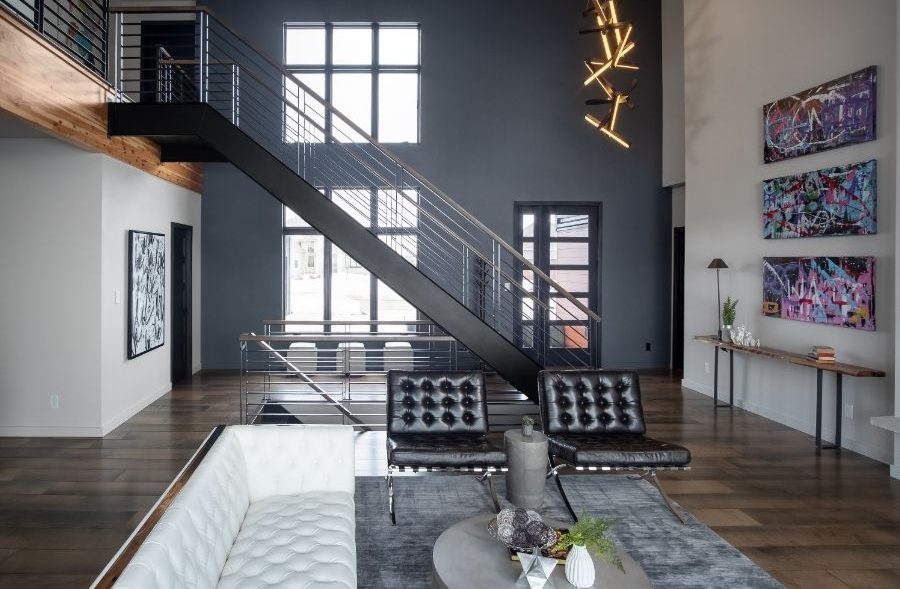 6 Custom Staircases to inspire your custom home building journey.

We're about to step into August of 2020, and we have a feeling that if years had staircases to move from month to month, 2020 would not have any as nice as the ones in these custom homes. 
Radiant prides itself on creating homes specifically for the life the homeowner has built for themselves. They do that by incorporating distinguished, unmatched design with exceptional functionality. The beauty of a one-in-a-million dream home with the functionality you need to live your best life. 
This article features just that. Every home with more than one level needs a staircase to get from bottom to top and back again. Radiant Homes insists that there is no reason why a very functional piece of a home can't be the most beautiful piece in it. 
Scroll on to see 5 incredible staircases that would stop Cinderella in her tracks! 
The Ultimate Spiral 
Spiral staircases are a tell tale feature in a lot of dream homes we see on TV. This contemporary twist (pun very much intended) was added to our Classic Contemporary Home. This staircase pairs form and function. The entry at the base forms a beautiful arch overhead which is mimicked in the curves of the railing and throughout the home. Even in the shape of the soaking tub in the master bath. Click here to see the other incredible features of this home!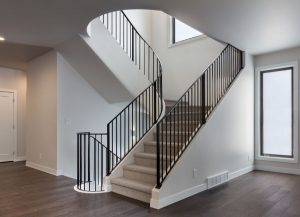 Contemporary Loft
This beauty is a central feature in our Classic Contemporary home. The solid maple steps and black steel keep the design contemporary. The owners of this custom home wanted minimalistic design; so we made sure that features like the staircase and the custom island stand out. Click here to see the other features of this home including their incredible island that was featured last month!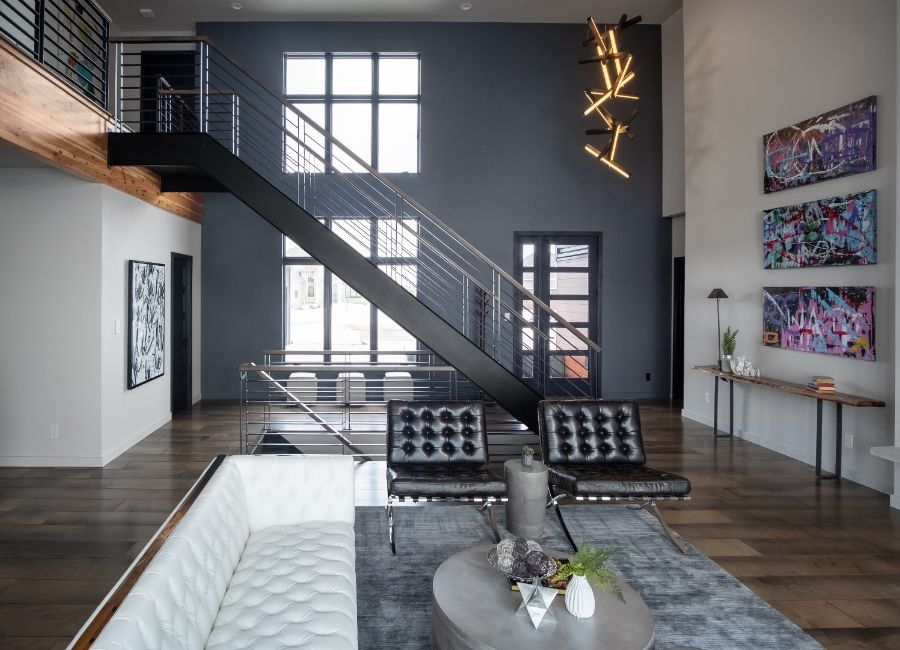 Stone Tower
Stainless steel cable railing and black steel posts are contemporary features in a lot of modern homes. That's not what makes this staircase from our Courtyard Manor Home so incredible. These modern features are placed against the backdrop of a floor to ceiling veneer stone wall. Large modern windows illuminate a space with filtered natural light. There are pieces of Radiant's Homes that are an experience. This one is like climbing a tower! Click here to see the other stunning features of this home including their theatre room! 
Remodel Rise 
We love a good remodel. This stunning staircase came from our Bluemont Lakes Transformation. This incredible transformation featured fresh, white interiors; so these thick maple slabs were a beautiful contrast to the white walls and trim. The staircase was definitely a striking feature of the home; so the Radiant Homes team got creative and cut out much of a load-bearing adjacent wall to make sure the stairs were visible from every angle in the home. Click here to see the other features of this home including their all-in-one custom island!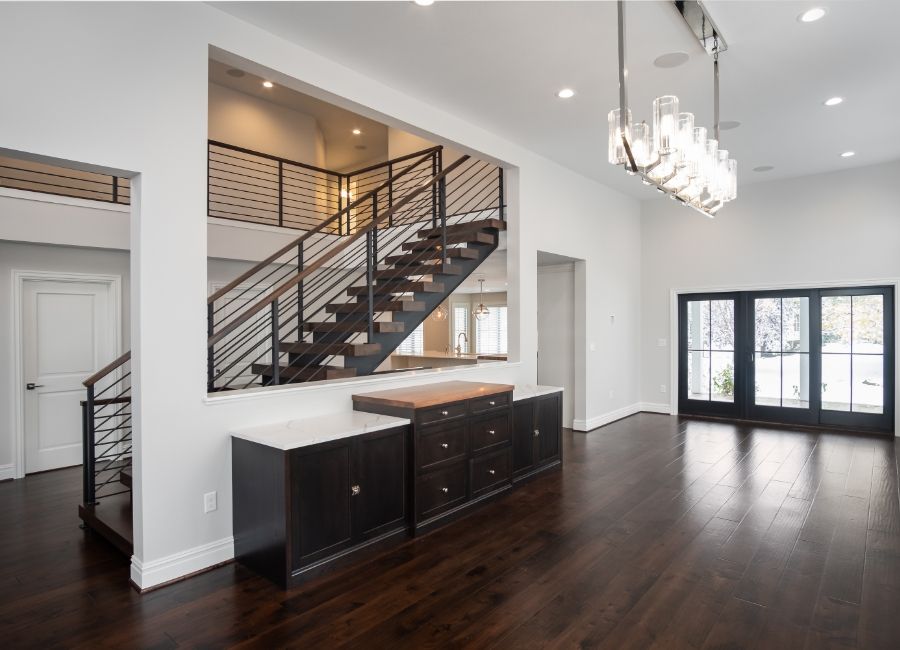 Hidden Wine Cellar
Our Shoreham Reclaimed Costal Custom Home is a lake goer's dream "cabin." The home features reclaimed wood throughout to give it that lake vibe, and it's paired with contemporary finishes like raw steel, white trim and white stone countertops. To make the best use of dead space (and to live up to our promise of exceptional functionality), Radiant Homes used the space under the stairs to feature a wine cellar. The staircase itself creatively utilizes welded wire paneling and steel beams against the reclaimed wood. The wine cellar, the real star of this staircase, has two stand-out features: the custom-crafted steel windows and steel-clad glass door.
Click here to see the other features of this home including scroll stopping stone fireplaces and a three season room!
Glass Castle  
Our California Modern Home was built with unique materials, and while the flat roof defines the exterior of the home, this open staircase with glass partitions serves as the artistic centerpiece of the living area. This home mixes modern methodology with clean and simple details. The staircase is a standout feature in this minimalistic design. If minimalism is your #inspo then check out the other features of this home including the dark stained kitchen, flat roof and large windows by clicking here.
Wooden Spindles
Our Blackwood on the Cove was featured in Midwest Nest in 2019, and it's easy to see why: modern marvel construction meets mid-century modern design. The builders at Radiant Homes designed and, with the help of Straightline Design, installed floor-to-ceiling 2×2 alder spindles to create a unique railing and feature wall between the stairwell and living room. They used a black steel mount to strengthen the spindles as well as provide a unique way to mount the handrail. If you love wood accents check out the other features of this home including the cedar accents on the front exterior of the home here! 
That concludes our roundup of Cinderella stopping staircases. If you have questions feel free to leave a comment or contact us by calling 701-478-4000 or email info@radiantcreativehomes.com.
About our contributors: 
David Reid is the President of Radiant Homes. He believes in working tirelessly to ensure that you see your home lift off the paper and become a home designed specifically for the life you are building. He also wants it to be a gratifying and enjoyable experience.
"When we hand over the keys, you will have a Radiant home or lake retreat that is unique to you and your family, and built within your budget."
Each project is a piece of art and David wants it to be the homeowner's masterpiece.