Summer is finally here, and, while we're still not supposed to congregate in large groups or public places, some people are slowly starting to let their "inner circle" back into their homes. We know how important entertaining is to a lot of our clients; so we wanted to share 6 custom kitchen island ideas, all different styles, that will help inspire your future social gatherings. And, bonus feature: These islands are large enough to accommodate social distancing guidelines!

Butcher Block Beauty:
We love this maple butcher block island from our Cape Cod Cottage.  This butcher block is 3 inches thick, and the maple contrasts so nicely against the black base. Butcher block, in general, will require some maintenance and may not "wear" as well as granite or quartz, but there is a certain nostalgic appeal with butcher block, and the wood tones can add so much character and warmth to a kitchen.  The built-in shelving on the far end of the island is perfect for cookbooks, or for those special (and often times odd shaped) dishes that one might want to display. 
Courtyard Congregation:
Our Courtyard Manor home features this unique island which includes a rounded peninsula extending from the otherwise traditional rectangular island. This island extension doubles and triples its function as food prep space, kitchen storage, and beautiful gathering and dining space. The entire island is standard countertop height; so our client sourced beautiful stools that complement the design perfectly.  Look closely and notice the striking copper Waterstone faucet!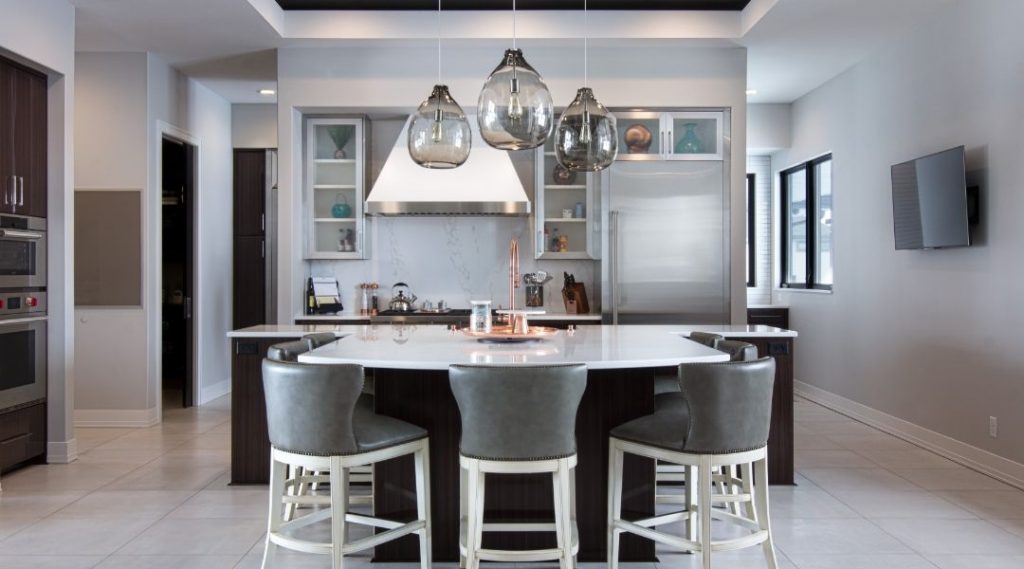 Strong Island Seating:
This bold and stately island is from a new build we completed in 2014.  The prairie style detailing is maintained throughout the kitchen as well as the island itself.  Note the substantial scale of the island legs with layers of tall trim at the base, the taller apron that frames the underside of the countertop and adds to the feeling of mass and strength, and paneled ends/back of the island that present unique styling being slightly different in design than the cabinet door panels.  The island is further set apart by the dark granite top, as opposed to the lighter tone of the perimeter countertops, another subtle statement of strength.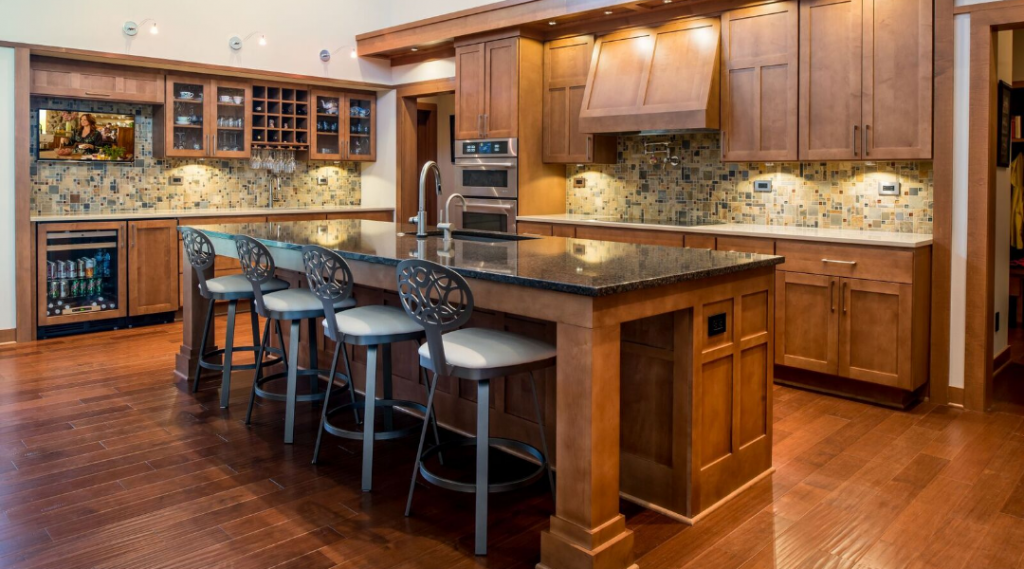 Historic Home Island:
This island beauty is from our Tudor Renovation. This stately Tudor style home, built in 1915, was one of the first in its area. It's careful renovation and seamless addition was focused on blending the old and new while preserving the original architecture.  At 14ft long, this island has plenty of room for seating on one end, and beverage coolers on the other; it was built to entertain!  Again, the island makes a statement by featuring a dark stain on Alder, juxtaposed with the soft white painted perimeter cabinets.  The exquisite Quartzite countertops add the perfect finishing touch of beauty and class.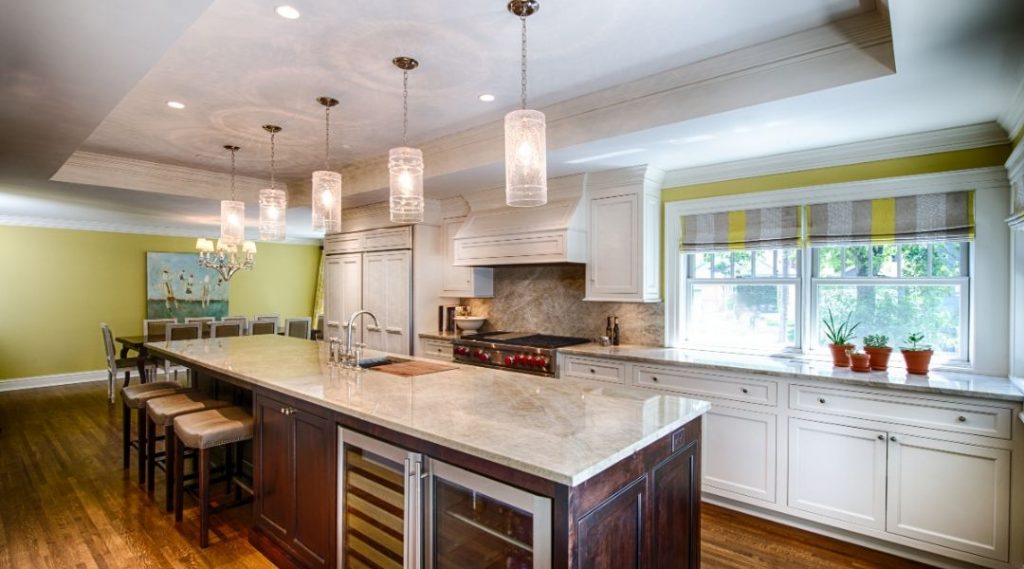 Bluemont Tiered Island:
This stunning renovation took place in the Bluemont Lakes neighborhood; so we call it our Bluemont Transformation.  The unique shape of the island fits perfectly with the flow of the floorplan from the Kitchen into the Living Room.  One end of the island starts with a beautiful raised walnut butcher block.  The opposite end features a dropped yet connected table, custom fabricated with a matching quartz top and custom steel base.  This concept allows for convenient "Breakfast Room" seating with close proximity to the working area of the Kitchen, as well as a great place for guests to lounge and converse where people naturally tend to gather in a home.  Impeccably designed and crafted cabinets from Braaten Cabinets made this room a show stopper during the 2019 Remodeled Home Tour.
Striking Contemporary Island:
This jaw-dropper is from our Striking Contemporary home. We love the symmetry of this kitchen. Fridge and freezer flank either side of the range and hood, which are centered within a stunning back-lit glass backsplash.  A Sapele Mahogany peninsula with waterfall leg juts out from the middle of the island, providing the perfect conversation piece for this gathering space.  Storage around the island is function-focused, but the overall design of this island really makes it stand out.  Its simple yet makes a striking statement.
We hope we left you inspired to start dreaming up your own custom entertaining space. If you're interested in a custom island, custom remodel or custom home – please contact us today! You can also call 701-478-4000 or email us: info@radiantcreativehomes.com.
About our contributors: 
David Reid is the President and owner of Radiant Homes. His mission is to partner with you and your family to deliver a home designed specifically for the life you are building.  The Radiant Homes team will work tirelessly to ensure that the process is both gratifying and enjoyable.  Each project is a piece of art, and David wants it to be the homeowner's masterpiece.