The leaves have changed color. The crisp is in the air. The kids are back to school (sort of).
There is no doubt about it, fall is here. 
What better way to celebrate by talking about one of our favorite features in a home, the fireplace!
We have installed so many different style fireplaces over the years. We wanted to share them in some different ways to give you some style insight for your own home planning purposes. So get your fuzzy socks on, pour a cup of cider or hot cocoa and enjoy the warmth these fireplaces are about to bring you! 
The fireplace: A feature
These fireplaces are set up to capture your attention. There is nothing else in this area that your eye will go to. It's designed to be a feature of the home and steal the show. 
These are often centrally located and serve as a core feature of the home.  They will use different colors and textures to draw the eye to that location. Common textures are stone as seen here in our Reclaimed Coastal home. 
The stone fireplace is a traditional nod in a contemporary home while a two sided fireplace gives the benefit and beauty of a fireplace in more than one room and is a more modern trend.
.   
.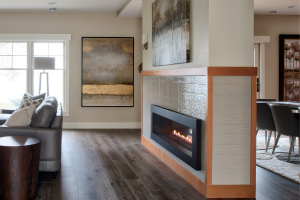 The Fireplace: Form and Function
Many homeowners know they want the beauty, elegance and the tradition of a fireplace in their home but also know they want a 55" smart TV as well. 
These fireplaces give the room automatic warmth, even with no "real" flame. They serve as a feature and will often soften the coolness and hard edges from a striking flat screen TV. It's an excellent complement and frequently hides the TV briefly until the guest eventually notices, "Oh, there is a TV in here!"  
You can dress these form and function fireplaces up or down. A simple stone veneer helps transition the room to the outside space in our first photo from our Courtyard Manor home. In the next, the square fireplace with stainless steel surround against modern texture and elegant glass shelving gives a contemporary feel to a traditional feature. (This is actually a fireplace from the same house but just a different room!)
The Fireplace: Barely There
These fireplaces are cozy, little, barely there implements that bring the room together. 
These can be centralized like in our Edgewood Natural Preserve. This gas fireplace is nestled into the accent wall of the living room. The accent wall itself was such a feature with its custom plaster finish that we didn't want it to give away any attention so the fireplace was sized and placed accordingly. 
Other areas where smaller, complementary fireplaces work well are in homes with high ceilings. The ceiling height can serve as a feature of the home itself. Oftentimes the windows and subsequent flood of natural light are a feature as well as is the case in our Modern Prairie home. Therefore, an off-center fireplace does well in these rooms. After guests or visitor's eyes are eventually drawn back down from the expansiveness of the home and looking out the window, they see the fireplace as a perfect complement to the room. The second example here is from our Country Chic home if you'd like to see more of it. 

Are you cozy now? Check out more of our fireplaces on Instagram or add these images to your Pinterest board.