2020 has been a year!  Wait, has it only been 8 months?!  Each month that comes and goes is an adventure in-and-of itself.  We are lucky, and grateful, that the construction industry has been able to keep working despite the world craziness over the last several months.
We've had the opportunity to watch some trends continue to develop and grow, and thought it would be fun to share some with you.  So here they are!  And in case you want to add some to your Pinterest board, just click on the photo to save!
Trend 1: Black Windows
We noticed this trending last year, and it has continued to take-off since then: more specifically, black windows with white trim.  With some homes, in order to achieve a more modern aesthetic, we will ditch the trim in favor of drywall jambs.  This is a bit tricky to do correctly, but very sleek and clean.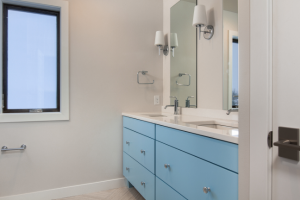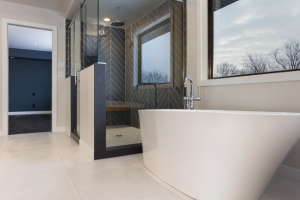 Trend 2: Fiberglass Windows
What often drives the evolution of the construction industry is the materials being innovated and developed.  Although fiberglass windows have been around for some time, we have seen their share in the marketplace increase greatly.  We mostly use windows from Marvin, Pella, and Andersen, and all 3 of them have offerings that utilize fiberglass on the exterior, as well as the interior, for their ease of maintenance.  Many of today's homeowners are looking for an alternative to windows with wood interiors which are more susceptible to damage from sun and moisture exposure.
Trend 3: Advanced Construction Methods
Advanced construction methods can apply to nearly any facet of home construction and are new, alternative, and often atypical ways of installing building components, usually in an effort to create a more efficient and sustainable home.  Here are a couple of ways in which we have been afforded opportunities to innovate and incorporate advanced construction methods in our 2020 projects:
SIP (structural insulated panel) construction. See this we will be posting progress photos as our SIP project on Lake Lizzie gets underway this fall!
Hydronic radiant heating AND cooling systems…in the ceiling. Yes, that means tubing installed in the ceiling, and running hot or cold liquid through the tubing in order to heat or cool the home!
Advanced and innovative methods of insulating and water-proofing basement foundations and slabs. These details can make all the difference in having a comfortable basement.
Trend 4: Custom Metal Fabrication
Nothing screams unique craftsmanship, ultimate customization, and sophisticated design like custom metal details.  Nearly every one of our projects in 2020 has implemented some form of custom metal fabrication, most commonly in the form of stair railings.  However, other notable custom metal projects have included a rooftop patio, exterior awnings, interior partition walls, range hoods, and fireplace surrounds.
Trend 5: Smart Homes
We know from the advertising that we're subjected to on a daily basis that devices and appliances are becoming "smarter" with every passing day. Google Home and Alexa can talk to us and tell us the weather. Smart doorbells can tell us who is at the door or if a package was delivered. Smart TVs can connect to the internet and record and suggest favorite shows for us, and we can use our cell phones as the remote! There's even smart refrigerators! It's like a real life Jetsons!
And that's just the tip of the iceberg. There's security systems, smart garage doors, audio systems, thermostat monitoring and an app that connects to your sump pump to let you know if the water level gets too high.
With all these separate products, and an individual app for each product, it can get overwhelming to manage. A truly "smart" home consolidates alllll of the smart features of your home in to a single "platform;" one app will control the entire home.
This means that you can shut the blinds, adjust the temperature of the refrigerator, turn the TV on in your kids room, and see who is at the front door from ONE device all while sitting on your couch.
At Radiant Homes, we put a lot of emphasis on "future-proofing" our homes.  We can pre-wire any home with all of the infrastructure that would be needed for our clients to implement smart home features as the needs (or funds) arise in the future.
Trend 6: Wine Rooms
Pull your wine collection out of the mechanical/storage room, and showcase it!  The wine room is a great opportunity to feature creative and custom ideas with storage solutions, wall treatments, and lighting elements.  They can serve as a great conversation piece as well!  Here are two examples of wine rooms we've installed, one featuring reclaimed wood, and the other was a part of a whole-home remodel!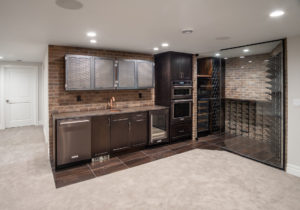 Trend 7: Hidden Doors
If a secret door seems like something you would only find in a mystery movie, it's time to change your mind.  Whether it's a pantry, closet, or covert playroom for the kids, it's always exciting when the opportunity presents itself to practically incorporate a secret door.  Here are few examples we love.
Trend 8: Slab Backsplash
This is a subtle trend we have noticed in more contemporary homes: deviation from traditional tile backsplashes in favor of a solid slabs.  Often times, this backsplash is the same as the countertop material, as modeled in our Classy Contemporary home. Our Striking Contemporary features an exceptionally unique and stunning back-painted glass backsplash, highlighted around the perimeter with a soft LED glow.
Trend 9: Mixed Metals
Do you still think mixing metals is a design faux pas?  Think again.  Executed tactfully, this trend is on the cutting edge of interior design.  We just shared a story about our Blackwood on the Cove home; this mid-century modern styling features gold hardware and fixtures popularized in the 50's alongside matte black finishes which lend to a more contemporary feel.  Our Edgewood Natural Preserve (just mentioned above) models matte black light fixtures, stainless steel plumbing fixtures, and gold cabinet pulls as well as gold legs on the leather island stools.
Trend 10: Discreet Trim
A tactic we love to employ in modern or minimalist homes is to paint the trim (baseboard and/or door/window casing) the same color as the wall; this allows the trim to optically "disappear."  It's a more practical and cost-effective alternative to omitting trim altogether, while still allowing for very clean and sleek detailing.  In the photo below, we have used drywall jambs in lieu of wood window jambs and casing, and we painted the baseboard the same color as the walls on which it is located.  This also allows other features to draw more focus, like a stunning staircase, fireplace or island.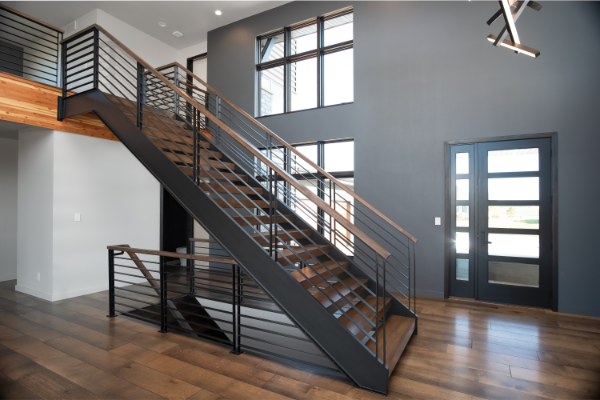 Trend 11: Concrete Elements
We love creative material usage, and bringing concrete elements to the interior is a fresh trend that we have thoroughly enjoyed incorporating.  Whether utilizing ceramic tile which emulates the look and feel of concrete, trowel-applied plaster products, or other concrete products, there are many opportunities to get creative and use the concrete aesthetic to create cool contemporary designs.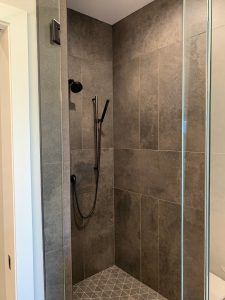 Do you have an interesting trend that we missed?!  Make sure you let us know about it on Instagram or Facebook. Also, feel free to check us out on Pinterest so you can start building a board for your dream home. If you loved any of the items in this blog, just click on the photo to save to a board!
About our contributors: 
David Reid is the President of Radiant Homes. He believes in working tirelessly to ensure that you see your home lift off the paper and become a home designed specifically for the life you are building. He also wants it to be a gratifying and enjoyable experience.
"When we hand over the keys, you will have a Radiant home or lake retreat that is unique to you and your family, and built within your budget."
Each project is a piece of art and David wants it to be the homeowner's masterpiece.