The 2019 Fargo/Moorhead Spring Parade of Homes was a great success and we're sad to see it over. The parade is a fun experience for everyone, whether you're in the market to move into a new home, remodel your home or just love interior design! Twice a year the FM Home Builders Association hosts a Parade of Homes throughout the area to showcase homebuilder's beautiful homes, and we wanted to give a big thank you to everyone that stopped by last month to see our Blackwood on the Cove model!
Blackwood on the Cove, named after its stunningly edgy details throughout, is a 5 bedroom, 2.5 bathroom two-story home in the Rocking Horse Farm development. The finest of details have been selected for this open floor plan starting with a unique floor-to-ceiling spindle railing defining the entryway staircase. The 10 foot island in the kitchen offers plenty of space for food prep and seating, and a butler pantry amps up the workspace area. Details include a perfectly geometric tile backsplash, white stainless steel appliances, and warm walnut custom cabinetry. Enjoy the many windows welcoming in the natural summer sunlight, and cozy up by the fire during the frigid ND winters. A main floor bedroom can also be used as an office, den or flex space. You'll love the spa-like experience in the grand master suite starting off with a stunning tiled shower and soaking tub. The connected upstairs laundry is further proof that no detail was overlooked in this home. If you didn't get a chance to see it in persion, view a 3D Virtual Tour here: Blackwood on the Cove 3D Virtual Tour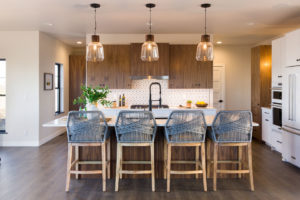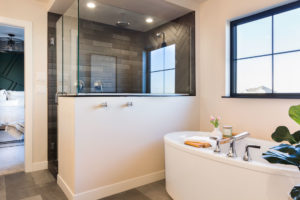 This years Parade of Homes just kept getting sweeter and sweeter as the days went on, thanks to our wonderful chefs! During our Taste & Tour, guests had the pleasure of enjoying culinary masterpieces from local chefs as they toured. Our wonderful chefs were:
-Shayla Knutson, chef and writer of Sweetly Simple Life blog
-Kayla Houchin, owner of Indulgence Baking Co.
-Casey Steele, owner of Love in the Oven Bakery
-Maggie Swenson, owner of Maggie Mae's Sugar & More
-Baked goods from Mehl's Bakery
Again, thank you to the hundreds and hundreds of people that stopped by to see this dream home, and to all of the people that made it possible.
-David Reid, President of Radiant Homes
-Andy Strom, Project Manager at Radiant Homes
-Scott Meland, Architect
-Brandi Youngmark, Interior Design
-Mike Gillund, Beyond Realty
-Gretchen Hagemeister, Beyond Realty
-Maria Bosiak, Eco Chic Boutique (staging)
For more information on this beautiful home, visit the Home Details Page here. Reach out to us with any questions or to get started designing your dream home!